Just Paint it!
Feb 04, 2013 01:16PM, Published by Debbie Salsbury, Categories: In Print, Home+Garden, Today
---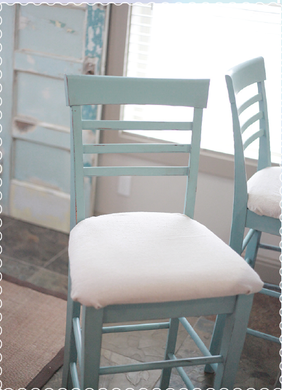 Just Pain it, be brave if you don't like it you can always repaint
---
---
Maybe you've been thinking about it. You find yourself drawn to color samples at the home improvement store, trying to envision a side table, chair, or shelf, in a painted and distressed finish. You've been asking yourself: " What type of paint would I use?", "Do I have the time?" and the dreaded, "What if I don't like it? " questions. Making the jump to add paint to a perfectly fine, or maybe not so bad, piece of furniture can be a little intimidating. So with the New Year here, if you've been pondering the idea of painting a piece of furniture, it is time to just paint it. I thought I'd share a few of my notions that came to mind while working on a recent project for myself.
* Don't start small, start cheap!
I came across a pair of barstools at a yard sale. They were clean, sturdy (most important), and constructed out of wood. Sold! These were just what I had been looking for to replace my current big box store barstools, which I also snagged at a yard sale. Are you sensing a pattern here? Although the new, old barstools were in great shape, I knew I wanted to paint them. So, I had the cheap part covered. I don't recommend starting with an armoire, china cabinet, expensive antique, or family heirloom piece. Save those for when you feel really confident in your skills. But don't limit yourself if you haven't done it before. Check out a yard sale of thrift shop for a shelf or side table. Or better yet, shop your house and garage! Grab the end table that you've been wavering about and throw on those paint clothes!
*Use your resources!
Talk with friends who have maybe painted furniture before. Visit with the clerk at the paint counter. Browse some blogs that focus on painting furniture, types of paint, and finishing techniques. Heck, you may even find some how-to's on my blog www.lively-grace.blogspot.com. Exploring options will help you answer those questions that have been holding you back. For my barstools, I chose my all-time favorite paint: Annie Sloan Chalk Paint ™. Nope, it is not a chalkboard paint. It would take a whole other article or an hour of me bending your ear to go into detail about this paint. Google it, or email me and we'll have chat about paint! I brushed on two coats in Provence Blue.
* Don't fret it!
I do this sometimes. Fret. Usually over which color of paint I want for a certain piece. But then I turn on some tunes, and soon I'm sing out loud and getting my groove on as I paint. This is the enjoyable part, seeing the transition in progress. Plus, it is just paint. Paint can be stripped off, sanded down, or painted over. Not feeling amazed about your color choice? Paint over it! A great way to achieve that worn over time look is with multiple paint layers followed by some distressing.
* Dry before distressing!
This is hard for me. Having patience, at the point where some of the character of the piece is exposed. Allowing the paint to fully dry, however, is important. Another reason I chose the paint I did is because of the beautiful way it distresses. I also use latex paint, sometimes it rolls or peels when sanded away. Giving the paint a day or two to completely dry decreases this occurrence. On these barstools I used a fine grit sanding sponge. I wanted to remove just the paint layer, but not the finish of the wood underneath, hoping it would peek thru.
*Bounce it off a buddy!
Get a little feedback on your progress by sharing your creation with a friend. I find myself texting pictures of furniture to friends from time to time. Hearing from a friend that your color choice rocks, or a nudge to distress further to add more contrast, may be the encouragement you need to see your project thru to completion.
* Seal it with a kiss!
Be sure to protect your labor of love. I usually choose a furniture wax or polyurethane. Although it may be a shabby finish you're after, you'll want to be sure to protect the paint you want to stay in place, certainly if this is a high use piece of furniture like a coffee table, dresser, or side table that sees daily use. Or barstools.
I'm just tickled with my re-graced barstools. This is a bright spot to start each day with my kiddo and a great perch for a warm beverage. It adds a little punch of personality in our home. Oh, are you wondering what happened to my first set of barstools? They live on at my brother's house. Perhaps we'll meet up at a yard sale, until then… happy painting!
Visit Jen at her blog www.lively-grace.blogspot.com where she offers re-graced and found home goods. Photographs courtesy of Uptown Photography, www.uptownphotographystudio.com, specializing in modern and creative portraits.
---
---
lively grace crafting paining howto
---
You might also like
---